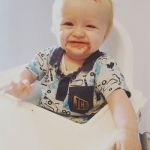 My favourite podcast
MFM is hilarious, I love listening to it as much as I can. I am a massive fan of true crime and this podcast has it all. It doesn't take itself too seriously but covers sensitive subjects with respect (and a few giggles)
This is my very first Sara Brookes novel and I have to say, I'm pleasantly surprised by it. I was browsing NetGalley when this book stood out to me. I'm glad that I was accepted to read this book.

I will admit, mfm is one of my favorite genres on the more taboo side of romance. Unfortunately, not many authors know how to write the book where it is believable and sexy. Sara Brooks, seemed to find that medium where everything was good and a little more believable.

I loved the fact that this book took place over a long period of time. There was instant connection but not insta love which i really appreciated. The characters were fun to read though I would have liked a little more growth when it came to the main characters. For some reason though I know there was growth, I just feel like there should have been more.

I will admit that this book was a change up because it features two bisexual men and one woman. I'm not one for the male on male scenes so those were interesting to read even though they're not my cup of tea.

All in all, I enjoyed it. I liked the concept. Loved the fact that two of the characters were geeks and I will definitely add Sara Brookes to my "author to follow" list.

*If you didn't already catch it, I received this book in exchange for an honest review.
hot hot HOT!!!
Independent reviewer for Archaeolibrarian, I was gifted my copy of this book.

Welcome to The White Room. 3 rules you need to know: you may only visit once every 6 weeks; you may not request a repeat with anyone, and what happens in the White Room, stays in the White Room. Or they WERE the rules. But circumstances changes, and so do the rules.

I really don't know what I was expecting from this book, really I didn't but I KNOW I wasn't expecting THIS!

I LOVED THIS BOOK!!!

It's basically wall to wall sex, and I makes no apologies for loving a book written as such. It lands itself firmly on 3 shelves: erotica; over 18, and fan yourself its a hot one! Cos ooooeeee is this a hot hot HOT one!

Dom is given a visit to the White Room as a birthday gift. Avaline uses the White Room when her husband becomes terminally ill. Lexie visits after her divorce. Asher visits to get his Mrs Robinson fantasy played out. Simon likes to get his desk signed underneath by those he had sex with on top. Austin wanted to be pampered but he couldn't leave his dominance at the door. Vironica is a widow, but still a woman. Arianna wasn't even supposed to KNOW about the White Room. Alec likes to play with his food. Callum can't be in a relationship, not with his job. Baron is a preacher, and a widower, but still a man. Adelaide had a 2 man fantasy.

And then we come full circle back to Dom and Avaline.

Each chapter is well told from a single point of view, the person whose chapter it is. Mostly male/female pairings but there are some FFM (contact between the females) and a MFM (NO contact between the males) pairings. There are repeat visits by most of these characters, is some way or other. We get each and every emotion about why they are using the White Room, and why they are so affected by this particular visit. And just why they are all so pleased with the changing rules.

I saw no spelling or editing errors, and each story flows well from one to the next, but pay attention, they use different names in the White Room! You should read all the stories in order.

I really REALLY loved it!

This is, as far as I can see, the first I've read of this author, I hope it isn't the last!

5 very sexy stars!

**same worded review will appear elsewhere**