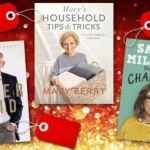 ---
On Super Thursday, new books from Mary Berry, Dan Brown and Dawn French are out, as part of the mass launch that marks the start of the Christmas season. Here are 10 titles in the running for No 1
---
A magical bakery in a forest co-owned by a quirky board game loving contestant on The Great British Bake Off? If there was ever a game specifically designed for my wife, this is it. She loves baking, cute card games, and that super-famous show (she was always a fan of Mary Berry). That said, I don't think I would ever be able to live with myself if I didn't bring this one home and share it with my wife. Let's see what we liked and what we didn't.

Kim-Joy's Magic Bakery is a cooperative hand management scenario-based card game for two to five players. In it, players are employees of the Magic Bakery and are tasked with baking wondrous items to satisfy a group of customers requesting their favourite (it's British, I'm just doing my part) dishes. The game ends once all customers have been served or are otherwise no longer in the game. Depending on the current scenario, the group scores points based on how many customers they were able to serve. All players win together or they do not win.


Setup the Customers card deck according to the number of players, shuffle them, and deal out one or two (depending on number of players as well) face up to the table to begin the Customer Row. Do NOT shuffle the Layers cards. Instead, separate them by type and place them all face-up in decks by type. Do shuffle the yellow Ingredients cards and place out five face up (or face down depending on scenario) to form the Pantry Row. Each player draws a starting hand of three Ingredient cards from the deck, and the starting player takes the Kim-Joy standee to begin!
On a turn, the active player will have choices of actions to be taken, in any order they choose, from among the following: take an Ingredient card, pass a card to another player, bake a Layer, fulfill a Customer order, or refresh the Pantry. Depending on the number of players, each turn will consist of either two or three actions being taken. Most actions are self-explanatory, but I will give a quick hit to them all. The active player may see an interesting Ingredient card in the offer row and may simply draw it into their hand for an action. Once the player has enough Ingredients to bake a Layer (by discarding the requisite Ingredient cards) they may do so for an action. If the player has a card they believe another player could utilize, they may simply pass them that card as an action – either Ingredient or Layer. The goal of the game is help fulfill customer orders, so by using an action to fulfill an order, the player discards all the necessary cards and helps the group inch one step closer to victory. At a loss and need a suggestion for an action? Discard all cards from the Ingredient Row and draw new ones.


Once each player has completed their actions, the Customer Row is shifted one space to the right and a new Customer comes into the bakery. The bakery can only accommodate three customers, so if a new hungry Customer visits, they force out the Customer who has been there the longest, and the players lose the opportunity to serve that (possibly irate) Customer. Play continues in this fashion of players completing actions working toward satisfying as many Customers as possible until there are no more Customers in the deck nor in the bakery. Players then count the number of Customers they served, and score points according to the goals set by the scenario card! As the game typically takes 15-30 minutes, player usually request another try, so be prepared for that eventuality.
Components. This is simply a card game that includes an unnecessary, but cute, standee to mark the starting player. The cards are nice, and come in two sizes. Surprisingly, the cards sport a non-linen low-gloss finish (I'm just saying that many games nowadays are linen and as thick as possible) and feature whimsical and wonderful artwork. The game as a whole is very stylish and boasts a super fun theme. I have no issues with the components, artwork, or theme here. It all works together really well.

I will definitely suggest that new bakers player their first game without the added challenges of the scenarios. They throw in some extra complexity and difficulty that younger bakers just will not appreciate. The different scenarios are all very interesting and add in a little wrinkle to the game to make it just that much more intriguing. I have enjoyed all the different scenarios I have played, though I have not played all of them. In time, my dears. In time. Luckily, the designer has aptly seen it fit to include Helpful Duck cards that act as any Ingredient card needed at the time. These little cuties are God-sends in certain situations, and can also be included in more numbers to make scenarios easier to complete.

Being big fans of the show, I knew my wife and I would love this one. It is cute, challenging, but doesn't try to be much more than what it is. With so many games out there competing to be bigger, more complex, and more aggressive, it is so nice to settle down with a light and jolly little card game like Kim-Joy's Magic Bakery. I feel like I am working in a bakery while I'm playing – orders are coming in too quickly and I need just one or two more actions each turn to gather ingredients and bake new layers. It's a really great theme and a really great game regardless of theme. The weight is perfect for young and older players, and good cooperative games that are not susceptible to quarterbacking are sometimes hard to find. Purple Phoenix Games gives this one a quite scrumptious 10 / 12. I wonder if Kim-Joy herself plays this game. If so, I officially challenge her to play with my wife and I… and maybe show us a couple tricks in the actual bakery as well. I could go for a killer Chocolate Bombe, Millionaire's Shortbread, or a vegetarian Old Fashioned Trifle! And if you get THAT joke, my brother will love you.