Travel and Education

(0 Ratings) Rate It

App

With 800 spoken and phonetically written words and expressions, this phrasebook is designed to do...
Travel and Education

(0 Ratings) Rate It

App

With over 900 spoken and phonetically written words and expressions, this phrasebook is designed to...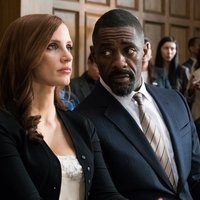 Jessica Chastain (0 more)
My local cinema held a secret screening last night, and Molly's Game was the surprise movie they showed. Beforehand, I'd probably only seen the name of the movie along with the accompanying poster and I had literally no idea what it was about. If I'd seen the trailer, and knew a bit more about the plot movie, I don't think I'd have gone to watch it, but it actually turned out to be a pretty enjoyable movie. Despite the fact that there were about 10 other movies I was secretly hoping they'd screen instead, I wasn't disappointed by this. That's the gamble you take with a secret screening I guess.

Molly's Game is based on a true story, and the accompanying book written by Molly Bloom. It's written and directed by Aaron Sorkin, writer of, among other things, The West Wing and The Newsroom, so you get a pretty good idea of the quick-witted snappy dialogue that you're in for. Jessica Chastain plays Molly, and she is just absolutely incredible in this movie. Not knowing the basic story it was based on, the opening scenes changed direction so many times that I was left wondering what the movie was actually going to be about and which direction it was headed. Narrated by Molly, we're initially introduced to her life as an Olympic class skier. She describes her younger life training with her stern father (Kevin Costner), the spinal surgery which put her out of action for a while, her fight back to the top and the tragic accident which then put her out of action once more. Then we jump forward 12 years, where Molly is suddenly woken one morning by a phone call. It's the FBI, and they want her to come out of her room within the next few minutes or they're going to break down the door. When she does come out, she is cuffed and arrested for running high-stakes poker games. We then see her in the office of Charlie Jaffey (Idris Elba), a top (and expensive) lawyer who Molly would like to represent her. The remainder of the movie then switches between Molly narrating and filling us in on the events of the last decade or so leading up to now, and Molly and Charlie as they bicker and work together in piecing together her defence.

The first half of the movie is enjoyable as we follow Molly, working her way up from bored secretary to running hugely expensive poker games for the rich, famous and weird in Los Angeles and then New York. As mentioned earlier, Jessica Chastain is simply amazing, given a superb performance as we follow Molly from troubled child to shrewd, intelligent business woman and 'poker princess'. At the height of her game she was legally raking in thousands of dollars each night, and even getting on the wrong side of the Russian mob. However, after a while it all starts to drag a little and I feel the movie could have benefited from a much tighter run time (it's 160 minutes long). Things pick up again towards the end though, and Costner and Elba get their chance to shine. Well worth watching.
An Example Of Why There Is No Longer A Place For Mediocrity In The Video Game Industry
For those of you that are Mass Effect fans and are worried after reading the title of the essay that I am going to spend the rest of the essay bashing the game, you can rest easy put your pitchfork down. The only reason that Mass Effect is on the receiving end of my criticism today, is because it is simply the most recent example of a major game being released that doesn't meet the high standard that we have come to expect from videogames in 2017. Don't get me wrong though, I think that we should expect a high level of production standard in our games and frankly I think the fact that Bioware have released this game in this abysmal state is nothing less than unacceptable.

If you have been generous enough to read any of my other stuff, you may have seen a piece I wrote around a year ago, where I loosely reviewed the Amazing Spiderman 2 on PS4, but really I just used the review as an excuse to talk about the place for mediocrity in the modern gaming landscape. This essay will essentially be an updated version of that piece, because every now and again something comes along and reminds me that mediocrity is still a present factor in modern gaming. I am aware that not every game released can be a 10/10 masterpiece at the level of The Last Of Us, but gaming has came such a long way in the last few decades that in my eyes there is a standard that must be met at this point and there is no room for mediocrity anymore.

As a quick disclaimer, let me say that I love and miss the mid tier section of the video game market. I love so many Codemasters, Midway and THQ games and the mid tier is the main reason that the PS2 is my favourite console. With that out of the way; in theory, mediocrity in gaming should have went away altogether when the mid tier crumbled in the dying days of the PS2. What we should have been left with is incredible AAA experiences and smaller, innovative indie experiences.

Excuses can be made for some examples of recent mediocre games. Liquid Entertainment and Beenox games are mostly movie tie ins, developed quickly and released to make a fast buck off of the back of another property. Hello Games were a small studio that bit off more than they could chew. Sega is a big studio, but they have been slowly going downhill and losing respect at a steady rate for a while now. Bioware aren't a mid tier developer, they are one of the biggest game developers on the planet. Mass Effect Andromeda had a budget of 40 million dollars and a five year development cycle, that is where most of the shock regarding the state of this game comes from.

Nonetheless, Andromeda will still go on to sell millions of copies, EA will make their money back and more games will be developed in the series. This is because the majority of fans of the previous Mass Effect games will have already pre ordered the newest entry and hype alone with carry this game through any turmoil it faces. Frankly I don't specifically care about the future of Mass Effect as I have never really been a fan of that series, but if you are a Mass Effect fan this should concern you greatly. If you are unhappy with the state that this game has been released in, don't buy it and if you really can't resist playing it at some point, wait a while and buy it used from a Mom and Grop Shop. That way you aren't giving EA your money and you aren't allowing them to continue to rely on reaching their profit goals via a lackluster game. That is how you change the future of your favourite franchise; never underestimate the power that you possess as a consumer.

Like I said though, Mass Effect has never been my thing, my concern lies more on the overall gaming market and the worry that this will bleed out and affect the mindset of other developers. Using a big franchise name alone to sell your game and forfeiting any attempt at creating a well made experience for your audience.

This is an issue that we have to stamp out now, it may sound petty or harsh, but this is how we make gaming better for all of us. There is no longer a place in the industry for mediocrity and it is up to us, the consumers to prove that to developers.

The message that I keep reiterating is backed up again by this topic, stop being an apologist, stop settling for less, don't be afraid to demand a higher standard. Spreading negativity isn't necessarily a bad thing if it has a legitimate basis. This is how we push mediocrity out of gaming. Playstation's best slogan is still, 'Expect Greatness,' because we should expect greatness from developers; don't be afraid to call a spade a spade. The most powerful voice of all lives in your back pocket; your hard earned cash and that is what gives you the right to call for better experiences.
If there's any particular genre i'm particularly keen too, it's science fiction. Books, movies, television, comics, you name it. I've been watching the old school versions of 'The Twilight Zone' and 'The Outer Limits' since I was like 5 years old (that could explain quite a few things actually). As far as movies? That's going to lead only to the past, the future, other dimensions, etc. If you had to nail it down even further within the genre of science fiction, I'd have to go right to anything revolving around time travel. That's where today's film for your consideration comes in. This one in particular doesn't seem to be getting the credit it deserves and although it's a bit rough around the edges, I think it also deserves a shot.



'Curvature' is a 2017 science fiction/thriller film (released on February 23rd of this year) written by Brian DeLeeuw and directed by Diego Hallivis. The film stars Lyndsy Fonseca, Noah Bean, Glenn Morshower, Zach Avery, Alex Lanipekun, and Linda Hamilton (yes … THEE Linda Hamilton as in 'Sarah Conner').



Helen (Fonseca) is grieving the lose of her husband Wells (Bean) in the aftermath of his suicide. Not long after, Wells's colleague Tomas (Morshower) seeks her out and asks for her blessing to continue the research project that he and Wells were involved in. Being an engineer and a scientist herself, she agrees and not long after returns to work trying to confront the grief as best she can with the guidance and help of her mentor Florence (Hamilton). Without warning, Helen succumbs to a blackout and awakens several days later. Upon awakening at home, she learns that several days have passed and receives a phone call …. from HERSELF. Helen warns herself to get out of the house as soon as possible as a man in a black BMW is coming to the house to kill her. In the confusion that follows, she manages to barely escape and seek out her friend Alex. What follows is a story of deceit, betrayal, and a conspiracy that goes beyond what Helen could imagine where she can't trust anyone … not even her future self.



Obviously, i'm biased her being partial to the genre. That being said .. this movie is was, is, and will be excellent. 4 out of 5 stars. What impressed me about the film was how well the writing went with the talent of all the actors involved. My only real complaint, is that I wish they had incorporated more dialogue into the 90 minute movie. It's almost like they sacrificed time between characters for the special effects which I will say, were absolutely awesome for an independent film. The film fell somewhere between a movie and a television episode as far as the experience. I would've preferred it to be one or the other and not in between if that makes any sense. However, I was still blown away by the film and will gladly watch it again and add it to my library at the first opportunity. Not to give too much of the film away, one thing I found unique about this particular time-travel film is how the writer came up with the concept that the nature of the 'experiment' allowed for someone to only go back so far into the past between a few hours and a few days limiting how far back you could alter history so-to-speak. The intent wasn't necessarily to save because too much time had passed … but to 'stop'. As for the 'star power of the film', I saw it as a tip of the hat to other films in the time travel genre. This film definitely deserves a place in the science fiction/time travel library. Take my suggestion and give it a look.
Lovely book that gets you thinking
Liberty "Libby" Hazlett is the oldest six kids (soon to be seven). She is part of an evangelical Christian family who practices the Quiverfull lifestyle--having as many kids as God deems they should. The father is the head of the family and his wife and children (especially the girls) should do everything he says, no matter what. Libby and her siblings are home-schooled and rarely see anyone outside of their family and church. So when a new family moves next door, it's a pretty big deal. Zo and her family are not exactly in the same vein religiously or politically as Libby's family. Still, Libby and Zo become fast friends--a friendship that may be cursed from the start. Spending time around Zo's family is eye-opening for Libby. But no one challenges Libby's father or their religion in her family. What does it mean for Libby that she's questioning her faith? And what will the repercussions be?

"It's all over the Bible--'be fruitful and multiply' and then there's Psalm 127 that says that children are like a warrior's arrows and 'blessed is the man whose quiver is full of them.' Some families like ours call themselves Quiverfull for that reason."

This was a really interesting, eye-opening, and sometimes scary novel. It was very well-written, and I really enjoyed it. A huge thanks to LibraryThing to introducing me to Julia Watts and her work. This novel is told in varying viewpoints between Libby and Zo, highlighting the stark contract between their upbringing and the way the two girls look at the world. It does an excellent job at showing how religion shapes your thought.

For Libby, her religious family is basically her entire life. We see how differently boys and girls are treated in her family, with the girls serving as helpmates in every way. She is not allowed any independent thought and is completely indoctrinated in her family's evangelical religion. Any thoughts she has that differ from her family's way of life make her feel strange and scared--and stepping out of line in any way means punishment. Even worse, she can't see any way out. Even though she doesn't want to, her future is set: getting married and having babies in the name of God.

Libby was so wonderfully written, and my heart ached for her. Watching her confront what she was taught, seeing her yearn for a different life--it really opened my eyes to how hard it must be for so many kids raised in religious homes. It's so easy to be derisive about religious views with which you don't agree, but the book did such an excellent job showing how Libby didn't have a choice: religion was such a part of her life from the moment she was born.

Zo's character was great, too. She didn't always seem as fleshed out to me, but it was refreshing to see a gender fluid character in YA literature. She was very down-to-earth, and it was nice to see her sexuality not be her defining characteristic. I also enjoyed how very feisty she was:


"The fact that Mr. Hazlett justifies his dictatorship through religion makes me think of all the families and communities and countries that have been torn apart because of people who claimed to be acting in the name of God."

This was a lovely book, which even had some surprises. It made me want to cry at times and laugh at others. It's very well-written and so beautiful to read. The subject matter is different, well-worth reading, and wrapped up in a very entertaining and interesting story. It certainly gets you thinking, plus it's very hard not to fall for Libby and Zo, too.


I received a copy of this novel from LibraryThing and Three Room Press in return for an unbiased review - thank you!
I had to read this play for my Shakespeare class in college and it was the first time I had ever read it.

This was an interesting play, and I'm not sure where it will fit on my scale for my favorite Shakespearean plays. While the plot was pretty straightforward, I do not know how I necessarily felt about the characters themselves. This being Shakespeare's final play, I feel like he wanted to pull in some aspects from his previous plays to draw the crowds in one last time.

I definitely see Shakespeare in Prospero. Both men are known for their art, Prospero's being magic and Shakespeare's being his writings, and in the end, both will give up those arts to be with their families. While it cannot be proved, Shakespeare did die fairly soon after his career ended, making yet another connection where possibly his "every third thought would be of the grave" just as Prospero foretold. And of course, Prospero's final soliloquy is said to be Shakespeare's swan song, his final curtain call.

Miranda can be seen as a voice for the audience a lot throughout the play. She is the reason we get the backstory about why Prospero is doing what he is doing, she voices concerns that the audiences may all be thinking. I think this was intentional because in most of the Shakespearean plays, there is at least one character who stands in for the audience.

Ariel, not going to lie, I thought he was a female character, though I found out by reading more, and watching a filmed production of it, that he is often portrayed as a male. I do, however, want to see what a female could do with this character. Especially since he is such a pivotal character to the plot line being in most, if not all, scenes in some way or another. Without Ariel, the story would not have been able to happen.

Caliban is weird. I understand why he hates Prospero and Miranda so much, but that doesn't excuse his actions both in the actual play and before it in the history sections.

I do not quite know what to classify this play as. It is definitely not one of the tragedies (mainly because it doesn't have a character name in the title) but it also isn't really a comedy. Would it be a mystical play? I don't really know. If you do, please, message me or comment on the post, because I am curious.

This play is often referenced in literature and in pop culture, but I never fully understood what they meant, so it was fun to be able to finally get what people were talking about. That being said, I do not think this is one of his most popular plays. Yes, it was his last, but I have not seen it come up as much in my studies as, let's say, Hamlet or Romeo and Juliet.

Overall, I enjoyed the play, but it definitely isn't my favorite. That spot still goes to Macbeth.
Steve Jobs is written by Aaron Sorkin and directed by Danny Boyle, stars Micheal Fassbender, Kate Winslet, Seth Rogen, Jeff Daniels, and Michael Stuhlbarg.

Now that those formalities are out of the way I will just come out and say it. Steve Jobs is the best dramatic bio-pic I have seen. In fact, it is the best movie I have seen this year. Acted fantastically to the point of realism, the film takes the typical three act story arc and shows us the life of Steve Jobs at three periods of his life right before a product launch where we see Jobs as both innovator and villain alike. Each period consist of the 30-45 minutes of visually stimulating and aggressive cinematography leading up to each product launch and how the major people in Job's life come in and out of those moments. These moments reveal that seemingly simple interactions with Jobs lead to a constant chess match of words and minds to maintain the reality distortion field of a seemingly great man but seemingly not a very good person. Clearly the film takes some Hollywood liberties, but with the screenplay based off the authorized biography of the same name by Walter Isaacson, the film Steve Jobs is probably the most realistic portrayal we may see of the man himself.

That portrayal is delivered splendidly by Michael Fassbender. Fassbender's performance though each phase of the film is scary. That is to say he plays the egotistical narcissist to perfection. We get real moments of a cold and calculating manipulative intelligent person with quiet moments of compassion here or there. During arguments, Fassbender knows how to delivers bombs out of moments where you would not expect them and at points those arguments feel like high speed action scenes in an otherwise action less film. It is quite remarkable to witness.

Seth Rogen (uncredited) delivers the best dramatic performance of his career as Steve Wozniak. Michael Stuhlbarg likewise delivers a solid performance that stands in this film. While Jeff Daniels, coming off a great performance in the recently successful film The Martian, delivers an outstanding nuanced performance here across from Fassbender. When the two of them are on screen together it is as if they are speaking high prose to each other, albeit at times screaming. I would not be surprised if Daniels is nomination on his work for this film.

Finally we come to Kate Winslet who plays marketing executive Joanna Hoffman. To me she delivered the most fantastic performance in this film. Perhaps because she was the likable better half to Fassbender but more importantly we see this woman who is the only one to stand up to and in a sense understand Steve Jobs's reality distortion field and work in and out of it as she desperately tries to hold everything together. We she her grow as someone who clearly loves and admires this man however recognizes his faults and is willing to call him out on them. Winslet reminds us yet again why she is one of the best actress in Hollywood and I predict she will be taking home a little gold statue to go with her performance in this film.

If you are still on the fence about watching this film, let me push you off it. Watch it. That may not mean in theaters, which is perhaps my only small complaint about this film. This is the type of film that would be great if it was released same day on digital distribution so you could watch it a few times from home over a few days while you think about it. But at some point you owe it to yourself to be amazed by the fantastic performances and cinematography of this film. While it may not be something you have to see on the big screen, it is absolutely worth the full price of admission. Do not miss it.
Well, here's to my first contemporary audiobook.

Gayle Forman's latest novel didn't exactly give me the feels as much as <i>If I Stay</i> did. <i>I Was Here</i> mainly focuses on Cody, a girl who finds her best friend Meg's suicide a bit fishy and decides to look deeper into her death.

From all of the flashbacks, Cody is obviously a follower – a shadow to Meg. After Meg's death, Cody is a little lost – she's grieving, she wants to find out if Meg actually did commit suicide (or if someone coerced her into it), and all of that leads her to dig deeper into Meg's past year at college. With Cody trying to find her own footsteps after Meg's death, <i>I Was Here</i> felt like a coming of age story.

It's also a story where all of those online safety rules that I learned in elementary school are flipped upside down. I don't know if I should say Cody is just a really stupid character, or a really brave character. Perhaps both. In her digging, Cody is led to an online suicide support group that Meg frequented on, which eventually leads her to a user Meg communicated off the boards as well. In an attempt to weed out the user, Cody decides to pose as a suicidal person as well, which eventually leads her to finding out the person's address (with help) and Cody actually decides to go to that person's home.

I still don't know whether to call Cody an idiot or not. Obviously she has balls to try and find out what really caused Meg's death, and she's obviously not an idiot if she brings someone with her.

Jorjeana Marie seemed quite platonic throughout most of the narration – either for the possible effect of Cody being platonic as she finds her path, or another reason entirely. It was also difficult at times to tell if Marie was making an attempt to have a different voice for male and female characters. If the character was angry or snapping at another character, you can tell there's a bit of rage or snap if you listen closely, but when you're walking to work when there are cars driving by, it's actually hard to tell if Marie did snap.

Marie does, however, do a fantastic job in the very emotional parts of the book, especially when Cody or Ben or any of the other characters are crying. I almost believed the narrator was actually crying, or an actual kid came in and narrated a kid part. I doubt there are books that mainly consists of crying, but if there are, I'm half expecting to see Jorjeana Marie's name on the back. :p

The entire novel is really just about a girl who lived under a shadow of another girl, and when that girl died, the shadow has to try and find her own path without that person. <i>I Was Here</i> isn't exactly emotional unless you can <i>really</i> connect with the story and the main character.

<a href="https://bookwyrmingthoughts.com/audiobook-review-i-was-here-by-gayle-forman/&quot; target="_blank">This review was originally posted on Bookwyrming Thoughts</a>
Lead Me Home by C.S. Savage instantly reminded me of The Blind by A.F. Brady, The Binding Song by Elodie Harper, and The Foster Child by Jenny Blackhurst all of which also feature an overworked NHS psychiatrist struggling to cope with their demanding roles, who end up going beyond the call of duty in order to protect the most vulnerable.

In this book, Dr Clancy Mclean has her suspicions about a couple of her psychotic patients. One of which, Beth, is convinced she is being stalked and her health is declining rapidly. Feeling forced to take it upon herself to protect Beth, Clancy irresponsibly brings Beth home to stay with her and her daughter, Rowan. Er, not allowed!

But teenager Rowan is having troubles of her own, in the form of an abusive ex-boyfriend who will not leave her alone. When she meets her new boyfriend, an older and more mature man, she is so smitten she decides to keep him a secret to prevent her mother interfering ~ at least until she gets to know him better. After all, she met him online. Her mother would never approve.

Would you?

The story is narrated by four characters. Clancy, her daughter Rowan, Beth who is one of Clancy's patients and an unknown, deranged psycho, who shares his murderous plans in great (and very gruesome) detail.

Reading 'Lead Me Home' was like watching an episode of 'The Wire in the Blood', based on Val McDermid's book of the same name ~ tense, gripping and oh, so horrific I could hardly breathe as I raced through to the end.

In fact, this is such a fast-paced, well-written, creepy read, it's without a doubt one of my favourite psychological thriller's this year. The psycho's scenes totally freaked me out and I don't think I've ever read a book quite as fast as this one!

When one person fell victim of the psycho, I felt absolutely, and emotionally, sucker-punched! Really, how could the author do that to me? Is this really C.S Savage's debut novel, because I have to say I can hardly believe that is the case! I loved every minute of reading this. I'll certainly be looking out for more by this author, and so should you!

Needless to say, I heartily recommend 'Lead Me Home', to other lovers of well-written crime fiction! Love creepy, psychological thrillers heavily steeped in horror? Then grab a copy of this book and prepare for a scare!